Hello Traders,
One truth that I would say pertains to everything and especially trading is "Less is More." Over trading is a problem I have experienced over the many years I've been trading, and I see it in the trading results of our members and the approach most newbies take.
The most profitable months come with fewer trades. Usually, the money comes from just a few trades while the majority of trades cancel each other out between the winners, losers and trading costs. Being selective and taking fewer trades is difficult for traders, because after all we make money from trading. The hardest position to take is no position.
" Money is made by sitting, not trading."

Jesse Livermore
The only time you should be taking more trades is when you are in the zone. Swing trading puts the focus outside the noise and the robots pushing and pulling the price every minute. Also, keeping losses small and giving the winners time to work and pull out as much profit on each trade as possible is critical for long term success. Team Orange is doing just that with the 1550 strategy.
Team Orange: 1550 Strategy
Team Orange is swing trading momentum. They are taking trades only in the direction of the current trend, and they are using moving averages to determine the direction of the trend.
Momentum is present when the price begins to trend by making higher highs and higher lows in an uptrend, or low highs and lower lows in a down trend.
Trades are taken when the price does a pull back against the direction of the trend.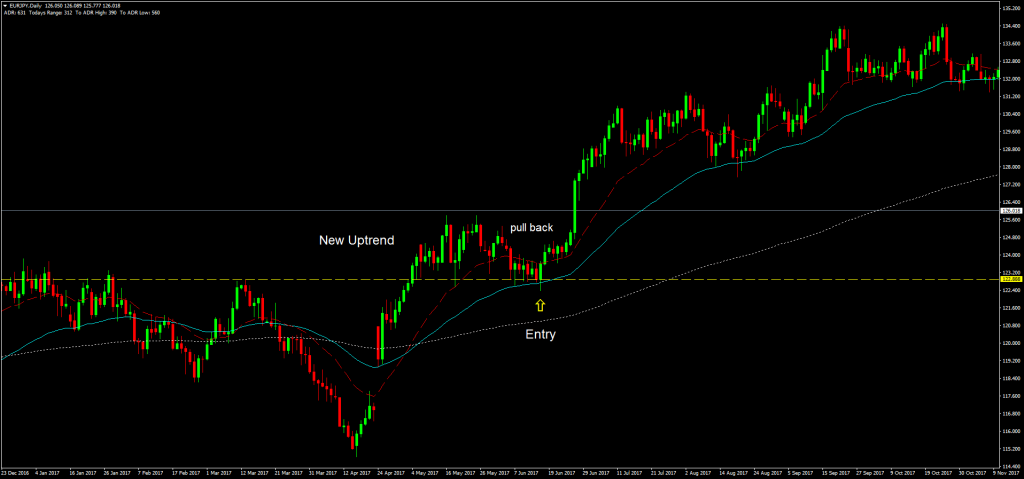 The 1550 strategy is a complete trading plan which focuses on taking the highest probability trades and letting the trend run its course independent of time.
What all is included in the plan?
There are 5 major parts to the plan:
Identify and analyze opportunities: This is done by analyzing price and trends.
Entry: Signals are taken at specific places of the trend.
Exits: These are predetermined and preset for when you are right or wrong. You will have losing trades with this strategy.
Risk Management: This determines our overall risk and per trade risk.
Money Management: This will guide you in growing your capital and keep you from blowing up your account.
Teamwork
As a member of Team Orange, you will learn all the details of the strategy and begin your training. Only by successfully completing it will you be allowed into the trading room where traders are implementing the 1550 strategy live.
Accountability is the key when working with other traders and through our review process you will develop the skills to be profitable.
Of course there is no guarantee that your results will be the same or results will continue like this as no one knows the future. However, if you don't have the discipline to follow the plan, we promise that your results will be far worse than these.
Drawdowns can and will happen with any strategy, and the 1550 Strategy is no different.
Getting Started

We are currently running a spring discount for those who want to get started now. By registering for a Yearly Membership in April you will be able to join a Crush Pro Team of your choice for free. That's over 50% off to get started.
To join click (here)
Scroll down and click sign up now under the Yearly Membership.
OR you can register as a free member and be eligible for our spring drawing where someone will be selected to join a Crush Pro Team of your choice for free along with 3 months free membership.
You must register by April 13th to be eligible.
To register click (here)